Barbara J. Diamond, Owner & Consultant
Barbara is a labor, employment, and civil rights lawyer with over 30 years of experience.  As the founder of Diamond Law Training, Barbara works as an anti-bias trainer and consultant. She is passionate about Implicit Bias Theory and helping organizations reduce the impact of cumulative, unconscious bias. Her recent training and consultant clients include Portland State University, the Oregon Professional Liability Fund, and the Washington Education Association.
Barbara hails from New York state and is a graduate of NYU Law School and Binghamton University.  Barbara uses she/her pronouns and can be reached at barbara@diamondlaw.org.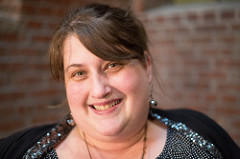 Lena Royale, Office Manager
 In addition to assisting Barbara's legal practice, Lena does a little bit of everything at Diamond Law Training. Lena oversees administrative work, communications, and event planning, among other responsibilities. Previously, Lena worked as an advocate and skills trainer with adults who have developmental disabilities and as an Americorps VISTA with Big Brothers Big Sisters. Lena volunteers with hunger relief programs, Raphael House of Portland, and her son's elementary school.
Lena uses she/her pronouns. Lena can be reached at lena@diamondlaw.org

Marina Moro, Program Assistant
Marina presents trainings on implicit bias, analyzes data, and assists with program development at DLT. In the past, Marina has worked for Laborers' Local 483 and the Multicultural Resource Center at Reed College, where she created programming on racial and LGBTQ justice. Marina hails from Gilroy, California, the garlic capital of the world.
Marina uses she/her pronouns and can be reached at  marina@diamondlaw.org
Save
Save
Save
Save
Save
Save
Save
Save
Save
Save
Save
Save
Save
Save
Save
Save
Save
Save
Save
Save
Save
Save
Save
Save
Save
Save
Save
Save
Save